Vtg Antique 1948 Vendorlator VMC 27 Coca Cola Soda Machine & Pipe Stand Manuals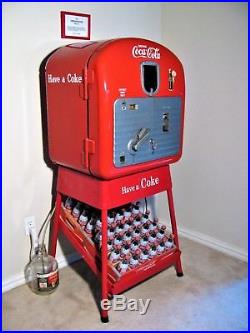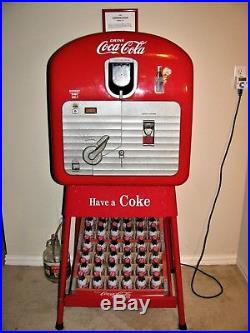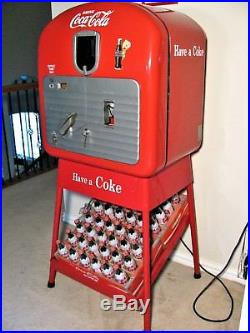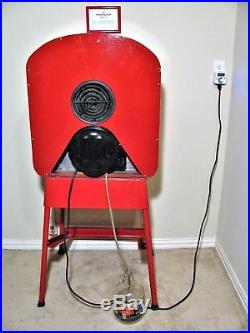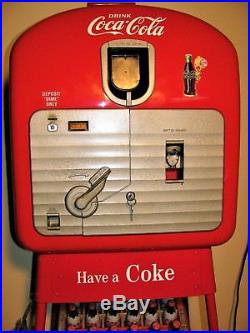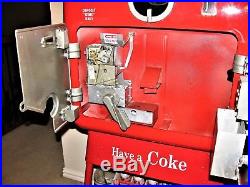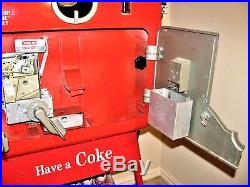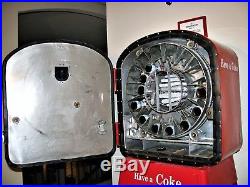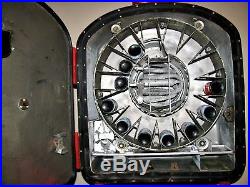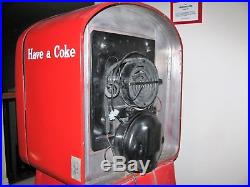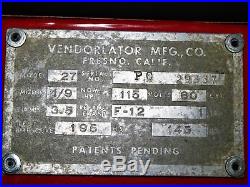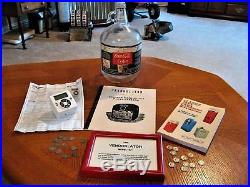 At 70 years old, you won't find a finer VMC 27 Coke machine, maybe an equal. It's in nearly pristine like new condition and still works great.
For your consideration is this. Vintage Antique 1948 Vendorlator VMC 27 Coca Cola Soda Machine with Original Pipe Stand, Manual & Book, Digital Timer, 2 Wood Coke Cases with Bottles, 23 Silver Mercury Dimes, Red Framed Vendorlator Plaque, Even 5 cases of original refillable 6½ Oz Coke Bottles if You'll Haul Them Off!! Because of its small size, t.
He VMC 27 is one of the most sought after and collectible "classic" soda machines. The machine itself without the stand measures 27" high, 24" wide and 19 deep. On the stand it measures 57 high. The small size makes the VMC 27 very desirable for upscale game rooms, man caves, kitchens, office break rooms, restaurants, bars, etc.
It has been professionally restored. In 1948, all machines were painted all red with white lettering and the bottle chute bezel was not chrome and stamped Vendorlator, as shown. Vendorlator merged with Vendo which was later acquired by Sanden Industries of Dallas in 2005 (Now a Japan held company).
Sanden still makes refrigeration compressors right here in wonderful Wylie, Texas. Reproduction and original parts for this classic machine are still available today.
The nameplate tag must have been added or replaced during restoration and is not correct as shown in my pics. This is an original Vendorlator'27' aluminum Coke machine, not a steel Pepsi VMC 27 machine made to look like a Coke machine and this machine comes with both keys. Aluminum is lightweight and rust/corrosion resistant which helps explain why it is in such superior, excellent condition. The machine itself without the pipe stand weighs just slightly over 100 pounds. However, most others will have a dent(s) on the front when someone didn't get their Coke after inserting a dime and then hit the machine, usually near the top right.
We know who you are! Aluminum is very hard to straighten after being bent or dinged. We got this at a Coin-Op show and noted It was never hit and the aluminum skin is in pristine, dent free condition.
This machine originally vended 6½ Oz. Thick walled refillable bottles which are no longer available. But it will vend any 8 Oz. Bottles found in grocery stores or by the case from a Coke distributor or sometimes found at Sam's Club or Costco. It will also vend pony beer bottles, 7.5 Oz.
Bottles like Starbucks Mocha or any bottle 7½ or less in length. Vend because they will not fit into the revolving drum slots, they're too fat.
70 years ago, electricity was fairly cheap. Yet this particular machine is energy efficient because the compressor motor is probably only a scant nominal 1/10 HP although the tag says 1/9 HP, less than your fridge. It is a forced draft package unit with a very small fan behind the outside condenser coil. The digital timer has an override feature to turn off or on.
It takes less than 1.5 hours to cool 37 bottles (27 in the drum and 10 pre-cooled bottles below, as shown in the manual). The machine cycles on and off normally as needed to cool during operation via the thermostat. There's no need to waste electricity at night and the digital timer also allows for the evaporator coil to defrost and the condensate to drain into the antique 1 gallon Coke syrup jug via the flexible poly tube line. The jug will fill to about half full in a year, so keep an eye on it.
You can see frost on the evaporator coil in a few of my pics. The altitude adjustment on the thermostat sets the factory temperature range from 39° F to 31° F at 1,500 feet. We adjusted this setting up so our Cokes weren't so cold. You may adjust to your preference and to your elevation. I'm retired now and have been fooling around with antiques and coins all my life.
We acquired this machine professionally restored in the 1980s, it came converted to free play. We had it converted back to a dime and 23 silver Mercury Head dimes are included to make it age appropriate.
To me, half the fun is putting in a dime and pushing down on the crank for a cold Coke. Restoring a vintage soda machine is not like cleaning a coin, a big No No. I don't care what anyone says, a restored machine will always be a lot more desirable and valuable than an original machine. Putting two 70 year old machines side by side, the restored machine will always command a serious premium versus an unrestored machine.
I don't know if the compressor unit is original but it worked for around 10 years or so before we unplugged it in our game room because of lack of use. We've decided to let someone else enjoy this wonderful and valuable piece of Coca Cola nostalgia, I plugged it in for the first time in many, many years and it works just fine, like always. The machine is complete and then some with all the additional goodies listed below. As you can see, the machine, pipe stand and everything else is in nearly pristine, like new condition; presentation or art museum grade. It cools and has no mechanical issues.
Being very critical of everything I own, to my knowledge there are only 2 very minor defects. The first is there is a little red paint wear from where the right and left front coin doors close at each top corner.
I don't know if you can see them but this very slight paint wear doesn't show when the door is closed. The other is the flap door at the dispense chute will remain open " to ¼" randomly somewhere at about 20 bottles or so are dispensed. It's just an annoyance so just tap it shut. I'm 66 years old and wish I was in this good of shape. It is quiet and runs smooth, not a clinker or clunker.
White areas are camera glare or light reflections. My pics are part of the description. Venderlator Model 27 working aluminum Coke machine with both keys and original steel pipe stand, restored. 1 gallon antique soda fountain Coke syrup jug for condensate. 2 wooden Coke cases in excellent condition with 34 bottles (24 in the wood cases and 10 in the machine). 3 event digital timer for on/off with override and Owners/Setup manual sheet. Venderlator Model "27" Service Manual and Parts Catalog. A field reference and price guide, 1992 by Jeff Walters.
Yes, this VMC 27 is in there. Red framed Venderlator 27 plaque (above machine).
23 silver Mercury Head dimes. 5 cases of original refillable 6½ Oz. Coke bottles if you want to haul them off. The cases are not all full with 24 bottles in each case but there must be over 100 of them from bottlers from all over the country. I will not entertain best offers. This machine and all the accessories will eventually sell at this fair price. It will also be listed at other sites. However, this machine is still serviceable and the cooling parts are available. This machine is still restored today. Simply return in the condition sent. The pipe stand will easily unbolt from the Coke machine. From a Smoke Free, Pet Loving. Energy Efficient, Mostly Organic, We Recycle, Patriotic American Environment.
Slot Machines, 1952 Seeburg Model C "Happy Days" Jukebox, Coin Supplies, Clothing, Books, Electrical Covers, Plates, Cables. AND OTHER FABULOUS DEALS ON farrarlight. Farrarlight is leading the way to GREAT STUFF CHEAP!!! (except for some extremely rare stuff).
The item "Vtg Antique 1948 Vendorlator VMC 27 Coca Cola Soda Machine & Pipe Stand Manuals" is in sale since Saturday, March 17, 2018. This item is in the category "Collectibles\Banks, Registers & Vending\Vending Machines\Soda". The seller is "farrarlight" and is located in Wylie, Texas.
This item can't be shipped, the buyer must pick up the item.
Brand: Coca-Cola
Original/Reproduction: Original
Country/Region of Manufacture: United States
Manufacturer: Verndorlator
Model: VMC 27
Manufacterer Location: Fresno, CA
Machine Construction: Aluminum
Condtion: Restored Working