Antique Vintage Gottlieb Arcade Vending Machine Grip Strength Tester Complete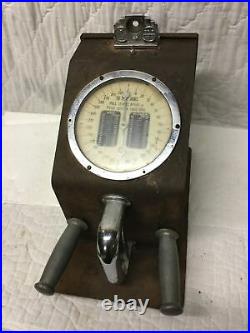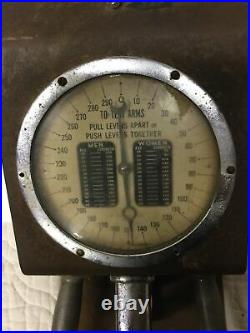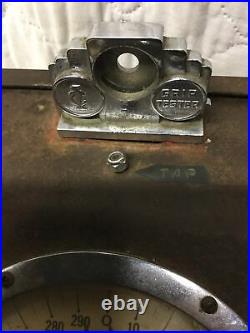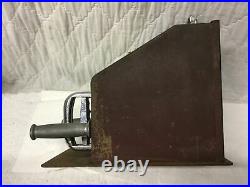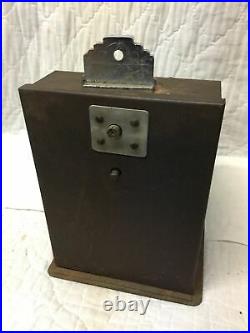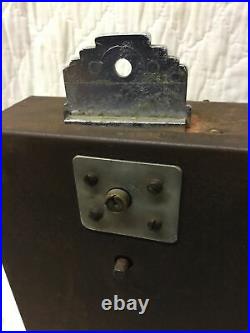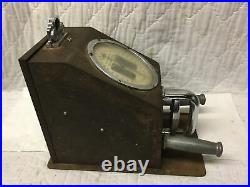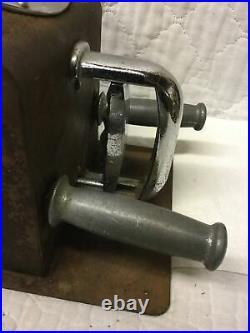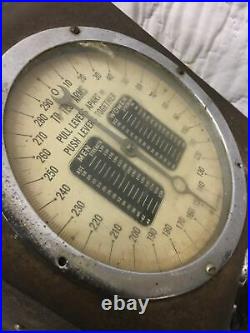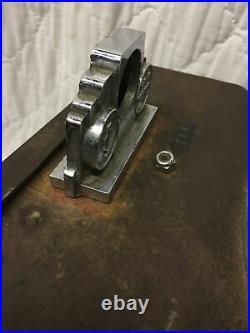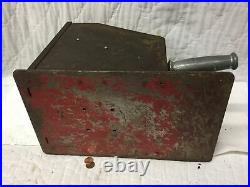 Antique Vintage Gottlieb Arcade Vending Machine Grip Strength Tester - Complete. The base metal plate measures 8 3/4" x 14 1/2" and it is about 13 high to top of coin slot. It weighs as shown 22 1/2 pounds.
The indicator needle inside the dial we could get to move when we tried the machine with coins but it may just need a simple adjustment. The decals have worn off but the sell replacements.
The top coin slot is a little loose but is fine complete. The finish on the machine has an aged patina and there have been no restoration - all parts are original and the interior has all it's parts. A great machine for restoration, much better than a parts machine. Please see my 12 detailed photos. Grip Tester was produced by Gottlieb, D.
Other machines made by Gottlieb, D. During the time period Grip Tester was produced include Baffle Ball, Baffle Ball Senior, Bingo, Miniature Baseball, Stop and Sock, Trip-L-Jax, 3 Jacks Pocket, Funland, Roll-Et, and Baseball Roll-Et. Was an American arcade game corporation based in Chicago, Illinois.
The main office and plant was located at 1140-50 N. Kostner Avenue until the early 1970s when a new modern plant and office was located at 165 W. Lake Street in Northlake, IL.
A subassembly plant was located in Fargo, ND. The company was established by David Gottlieb in 1927, initially producing pinball machines while later expanding into various other games including pitch-and-bats, bowling games, and eventually video arcade games.
Like other manufacturers, Gottlieb first made mechanical pinball machines, including the first successful coin-operated pinball machine Baffle Ball in 1931. Electromechanical machines were produced starting in 1935.
The 1947 development of player-actuated, solenoid-driven 2-inch bats called "flippers" revolutionized the industry. Players now had the ability to shoot the ball back up the playfield and get more points. The flippers first appeared on a Gottlieb game called Humpty Dumpty, designed by Harry Mabs.
By this time, the games also became noted for their artwork by Roy Parker. In the late 1950s the company made more widespread use of digital score reels, making multiple player games more practical as most scoring was expressed by cluttered series of lights in the back box. The score reels eventually appeared on single-player games, now known as "wedgeheads" because of their distinctive tapering back box shape.
By the 1970s the artwork on Gottlieb games was almost always by Gordon Morison, and the company had begun designing their games with longer 3-inch flippers, now the industry standard. The company made the move into solid state machines starting in the late 1970s. The first few of these were remakes of electromechanical machines such as Joker Poker and Charlie's Angels.
By that time, multiple player machines were more the mode and wedgeheads were no longer being produced. The last wedgehead was T. (1979) and the last single player machine was Asteroid Annie and The Aliens (1980). Gottlieb was bought by Columbia Pictures in 1976. Gottlieb's most popular pinball machine was Baffle Ball (released mid-1931), and their final machine was Barb Wire (early 1996).
The item "Antique Vintage Gottlieb Arcade Vending Machine Grip Strength Tester Complete" is in sale since Sunday, November 15, 2020. This item is in the category "Collectibles\Arcade, Jukeboxes & Pinball\Arcade Gaming\Non-Video Arcade Machines". The seller is "spooknook" and is located in Weymouth, Massachusetts. This item can be shipped to United States.