Controversial Vintage Glass Ford Gumball Machine Fund Raiser Retarded Children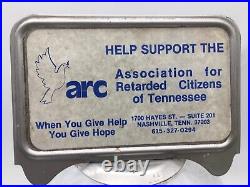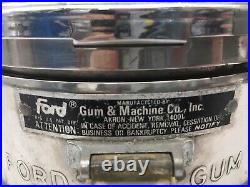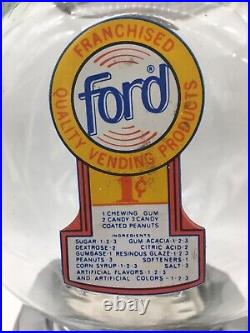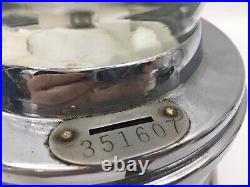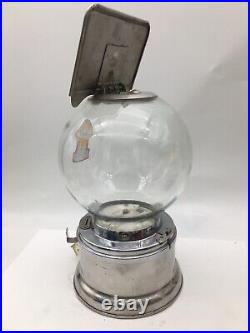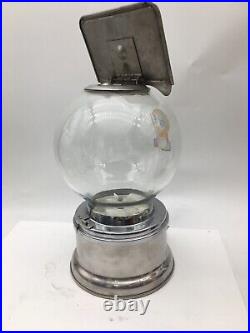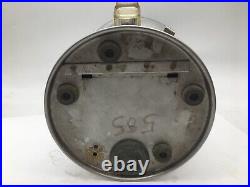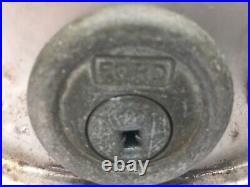 The Ford machine is the rarest in the lineup of Down Syndrome charity program machines and this one is all original! Does that person like oddities or is he/she on the exact opposite end of the spectrum of being politically correct? If so, look no further because you can check their gift off the list... This listing is for American history. Gum/Candy programs long helped charities like Jerry's Kids, Kiwanis, etc.
50-70 years ago it was normal to refer to afflicted children as being "retarded". These programs raised millions of dollars for the cause and advertised the program on the machines. This is one of those rare machines. The display topper advertises the charity and states, "Help Support the Association for Retarded Citizens of Tennessee" from Nashville.
The word "retarded" may not be politically correct anymore but millions of dollars were raised for down syndrome through this program. Own this piece of Americana and you will have the rarest gumball machines in this industry.
This is a piece for many types of collections including vending, Americana, weird history, and political incorrectness. This particular machine is in original condition. It displays the unique patina you would expect from a machine that is 60+ years old. It would display well as-is or gumball machines are an easy and fun project to sand and paint to bring them back to their original glory.
We attached pics so you can see exactly what you will get and see if this works for you. It is fully functioning and vends with pennies. The lock is included and is configured so you can lock/unlock with a small screwdriver. We included several pictures so that you can see the exact machine you will receive. If you don't see what you need, let us know and we will list new items or quantities just for you! We warehouse millions of toys, candy/gum, parts, and machines so it is impossible to get them all listed but we probably have what you need! All of our listings utilize stock photos.
We sell 1000's of machines/Parts/Fun Products and can't take pictures of every unit. The product you receive will be the same model, vintage, and general condition as the machines in the pictures. Our feed back of well over 99% and coupled with the thousands of machines we sell tells the story of how great our reputation is. Some parts may be of different style than shown but are of equal or greater quality and function exactly the same. GumballStuffT has the largest inventory and variety of used bulk vending machines in the WORLD.
We specialize in commercial grade equipment like Northwestern, Oak, Beaver, Eagle, and A&A but occasionally offer other brands, as well.