Gumball Machine Vintage Candy Dispenser with Iron Stand 41-50 Tall Blue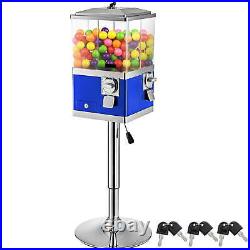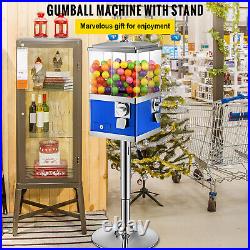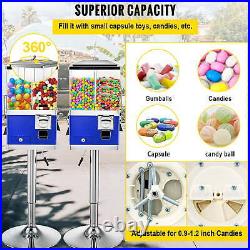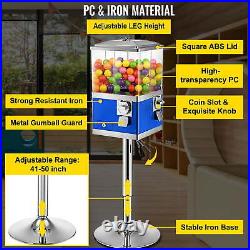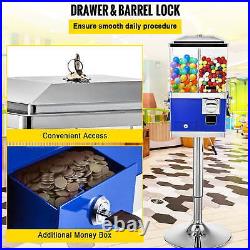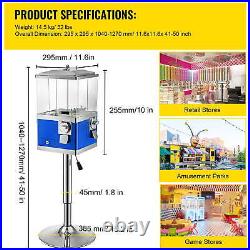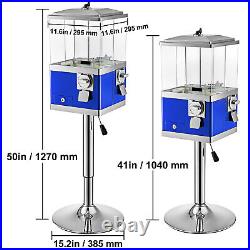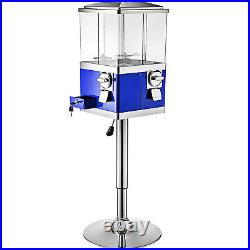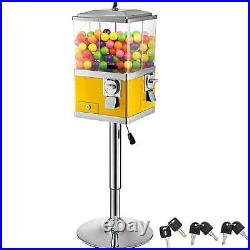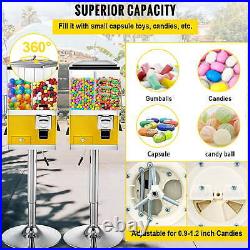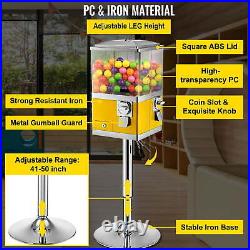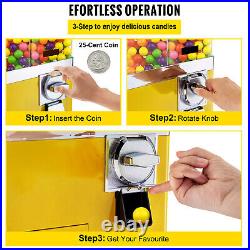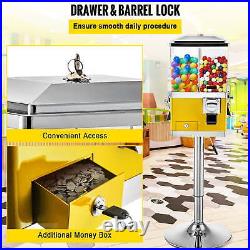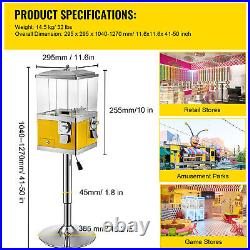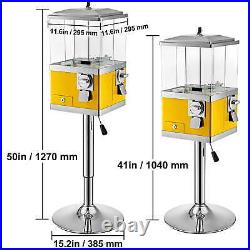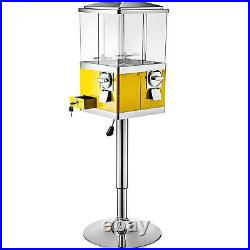 Our 4 compartment bulk vending machine is one of the best values in candy and gumball vending. The compact design lets you offer three different product selections in a tiny space and is convenient to service. The vending machine allows operators to vend gumballs, bouncy balls, and capsules through the same dispensing wheel.
Children have a lot of fun and excitement while getting gumballs from the gumball machine bank quicker. Head of the gumball machine dimensions: 5.6 x 5.6 x 10 inches. It adopts superior construction with an iron base, high-transparency polycarbonate tank, exquisite knob, and gumball guard.
Load Capacity: 10 lbs/ 4.5 kg. Material: Iron + ABS +PC + Metal.
Product Dimensions: 11.6 x 11.6 inch/ 295 x 295 mm. Candy Jar Dimensions: 5.6 x 5.6 x 10 inch/142 x 142 x 255 mm.
Base Diameter: 15.2 inch/ 385 mm. Leg Diameter: 1.8 inch/ 45 mm. Item Weight: 32 lbs/ 14.5 kg. 1 x Pack of Accessories. Superior Capacity: One of the biggest strengths of this commercial candy vending machine is its 360-degree rotatable 4 separate removable canisters. Each canister is 10 lbs in capacity and can put 300 pcs of 1 gumballs. In addition, 2 canisters have adjustable candy wheels to control the number of falling items; the other 2 canisters have a range of 0.9-1.2 inches, so you can change the size of the window to deliver different things, like candies, bouncy balls, or round capsules.
Advanced Quality: Coin-operated candy machine features a blend of high-quality iron, metal, and plastic material in its construction. The canister part is made of shatter-resistant, high-transparency PC. Also, the heavy-duty iron base and thickened leg help it to stand steadily without shaking. Meanwhile, the height is adjustable from 41-50 inches.
Easy to Use: Bubble gum machine for kids accept the coin that the diameter is smaller than 1.1 inches, and the thickness is smaller than 0.14 inches, one coin at a time. Next, spin 360 degrees, and you'll be able to receive what you've expected. In addition, our machines can vend gratis.
Top lid cam locks for security, and a one-piece lid facilitates replenishment. Coin boxes with a lock provide easy access and maintenance. Wide Application: This machine is designed to sell candies, bouncy balls, small capsule toys, etc. Perfect for home use, gaming stores, restaurants, canteens, bars, amusement parks, shopping arcades, etc. It allows vendors to make a more comprehensive offer and have more opportunities to make profits.