VINTAGE OAK VISTA 60's 70's RESTORED GUMBALL MACHINE IN COCA COLA / COKE THEME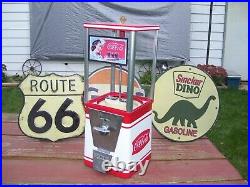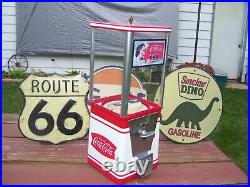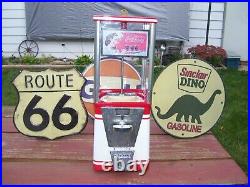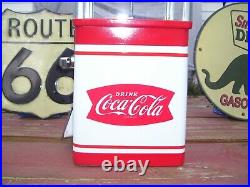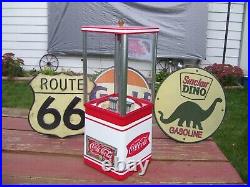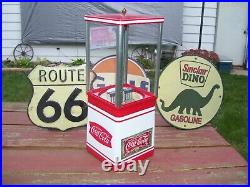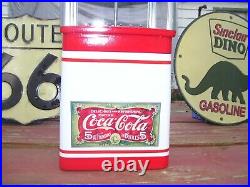 GREAT CENTER PIECE FOR ANY COLLECTION, MAN CAVE, GARAGE, OR FOR THE KIDS AND GRANDKIDS, (OR MOM AND DAD), OR A GREAT GIFT!!!!! THIS OFFERING WILL BE FOR THIS 25 CENT OAK VISTA 1970's ERA GUMBALL MACHINE WITH AN ADJUSTABLE SMALL CANDIES WHEEL AND BRUSH SET, RESTORED IN 1960's - 1970's ERA COCA-COLA THEME. THIS WILL DISPENSE SMALL CANDY SUCH AS, M&M'S, M&M PEANUTS, CHICKLETS, MILE AND IKE'S, GOOD AND PLENTY'S, AND OTHER TYPE SMALL CANDIES.
THIS IS A PROFESSIONAL MACHINE, THAT YOU CAN STILL SEE IN MANY DEPARTMENT STORES, BANKS, HARDWARE STORES, ECT. THESE MACHINES ARE ALL COMPLETELY DISASEMBLED, CLEANED, SANDED UNTIL SMOOTH, PRIMED WITH 3 COATS OF PRIMER, WET SANDED IN BETWEEN EACH COAT, COLOR COATS APPLIED WITH 3 COATS OF COLOR, AGAIN, WET SANDED IN BETWEEN EACH COAT, DECALS AND CONTRASTING PINSTRIPPING APPLIED, PAINTED AGAIN WITH 3 COATS OF TRIPLE THICK CLEAR, AND AGAIN, WET SANDED BETWEEN EACH COAT EXCEPT FOR THE FINAL COAT, ALLOWED TO THOROUGLY DRY, RE-ASSEMBLED, NEW PLEXIGLASS PANELS INSTALLED, AND FINALLY A NEW LOCK AND KEY INSTALLED.
THESE MACHINES WERE NEVER THIS SMOOTH OR SHINEY WHEN THEY WERE NEW!!!!! THIS IS BASICALLY THE METHOD YOUR CAR OR TRUCK WOULD USE, TO BE RECONDITIONED AND REPAINTED, WHICH I HAVE DONE FOR YEARS.