Vintage Restored Cherry Red Post WWII 50's Penny ¢ Gumball Machine by Acorn MFG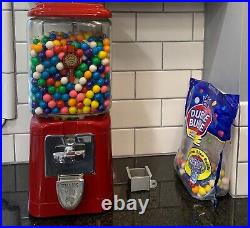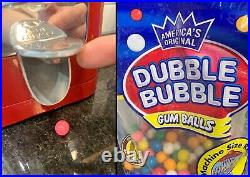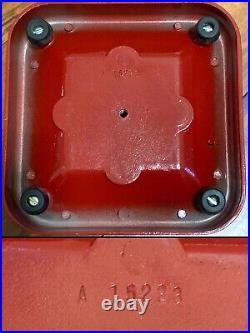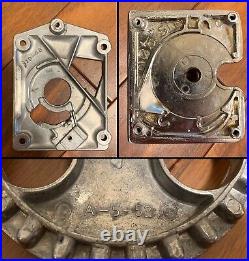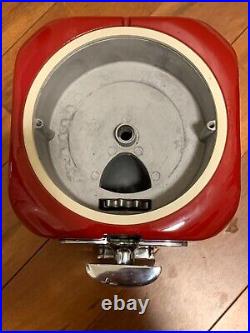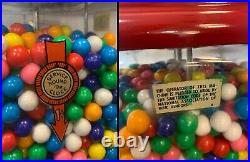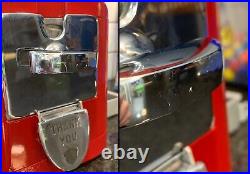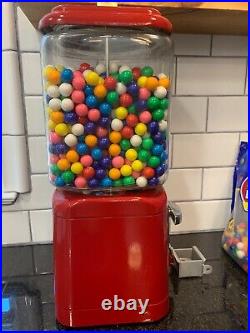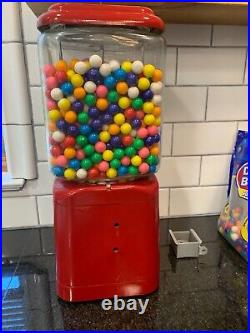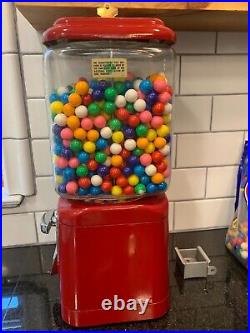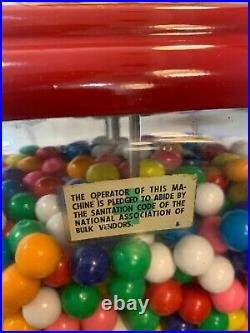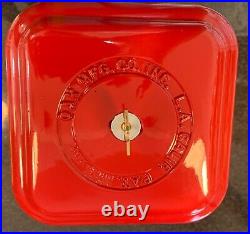 Hello, and Welcome to my Acorn Penny Gumball Listing! This machine has a story to tell, and I'm going to do my best to tell you everything I know as it was passed down from family. More than anything, I wanted to do this machine justice and ensure it finds a great new home. First, I can date this machine to 1952, approximately, based on the metal castings (see photos), which have a production year range between 1948 and 1952.
She handpainted it blue, kept it for a short period, and it then sat in storage, never to be used again for nearly 50 years! The remarkable thing about the fact that it went untouched for a half-century is that when I finally came into possession of the machine, I noted right away how nice the globe was, and I also noted how nice the penny sticker on the inside of the globe looked, and it became obvious after research that this wasn't normal. Simply put: restorations this age have replacement stickers, and they often include replacement globes, but this one doesn't! I did of course have to replace parts, however, as anything rubber or cork was crumbling from age, so here's a list.
4x Rubber Feet (the original rubber feet were falling apart and replaced with new). 2x Rubber Gaskets (these sit on the top and bottom of the globe, replacing cork gaskets in pieces). 1x Key Mechanism (the original key housing and replaced was drilled out as the original key was lost to time).
Now, outside of a good cleaning, the machine was completely repainted, but this isn't just any paint job. I'm affiliated with an auto restoration company and had access to the shop to make this happen. As there were multiple layers of paint, we started by sandblasting the painted metal throughout and starting over from square one. Note that the metal castings aren't completely flawless, so any minor blemishes in the final paint work are a reflection of that fact.
We then took an amazing cherry red Porsche paint remnant (this stuff is EXPENSIVE but we were never going to use it on a car) and spray painted it in the booth. We then finished up with clear coat. The moral of the story? You're never going to find more high quality paint on a classic gumball machine.
The turning mechanism was the final piece of the puzzle. As it was in good condition overall, we opted to polish the chrome finish as best we could, but do note that it is not perfect, with a few bubbles (see photos). We didn't see the benefit in taking the risk and the expense to have it re-chromed, but it's always a possibility down the road if you are looking for perfect. Finally, I really wanted to show off the machine with gumballs, but I also wanted to ensure it worked as expected, and it does, one penny at a time! And these are brand new, as fresh as you'll find, added to the gumball machine the day I posted this listing, and I never touched them with my hands.
It took approximately 5.5 lbs of 1/2" (0.62") gumballs to fill it up to the current level. The rest was in time, but it was totally worth it!
Dimensions: 16" Tall (Top to Bottom) x 6.5" Square Base x 8 Tall Globe. Weight (w/ Gumballs): 13 lbs. This machine takes pennies, one at a time, with one 360 degree clockwise rotation of the handle, and those pennies fall into the base, removable by taking the globe off and going from there.
To remove the globe requires first removing the key mechanism. Turn the key counter-clockwise until it's loose, and with the key still inside the mechanism, remove it and you'll be able to remove the red metal piece resting on top of the globe itself. Note : Turn the key mechanism clockwise until tight and remove the key to lock the unit, for reference.
With the top removed, take a flat head screwdriver and loosen up the two long screws, one on each side (not the long center screw) and that will allow you to remove the globe. To continue and reach the very bottom filled with pennies, and with the vertical side screws removed never remove the center screw! , the rest of the machine comes apart fairly easily from there.
The metal handle mechanism will slide upwards and out, and there are just two metal wings that keep the base connected, reachable from underneath. While this unit is currently meant to sit on a table top or counter, it can be converted to pole setup, and that's where the two holes in the rear come into play if you were so inclined. If you made it this far, thanks for reading my story!
I humbly restored this machine out of respect for family and because it was a fun and unique experience. The value, I think, is crystal clear.
Pole Mount (does not include original screws). To do it properly, I'm going to remove the top, empty the gumballs into a sealed bag, and remove the globe from the base to get it double boxed.
It's the only way to do this right. You will have to take a flat head screwdriver and reconnect it once you receive it! But I think near anyone can perform that little task, just take your time and be careful with the screws. Without further ado, if you have additional questions, please ask, but I think that covers it.
This item is in the category "Collectibles\Banks, Registers & Vending\Vending Machines\Gumball". The seller is "j0hns0n1t3" and is located in this country: US. This item can be shipped to United States.
Modified Item: Yes
Country/Region of Manufacture: United States
Machine Type: Gumball
Original/Reproduction: Original
Modification Description: Restoration
Brand: Acorn